We are celebrating 70 years of growing!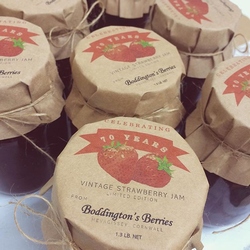 Some of you may have seen on our social media that Boddington's is celebrating 70 years of growing this year!

We shall take this moment to thank everyone who came to see us at the Royal Cornwall Show last week – it was amazing!

In the 1940's, Phil's Granddad started growing strawberries. 70 years later and 3 generations on, Phil now runs the farm and it's safe to say strawberries are his speciality.

At the show, we also had the pleasure of meeting HRH Prince Charles!!

Our Strawberries through the years…

In the 40's, Phil's granddad grew a mixture of three varieties, but the most popular at the time was Royal Sovereign. Today, Phil grows a few different varieties, currently we are harvesting Malling Centenary.

Why don't we grow Royal Sovereign?

Typically, new and better things are always being developed, and in this case, Malling Centenary has higher yields and a longer shelf life than Royal Sovereign. But most importantly, Malling Centenary are a larger berry and have a much sweeter flavour.

Did you come and see us at The Royal Cornwall Show?

Did you see a difference in the strawberry varieties? If so, which one would you choose?