Preparing the strawberries for winter...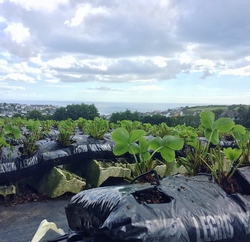 Our outdoor field, and most of our poly tunnels have finished cropping for this year. So we have given them a trim! This involves removing most of the leaves, and thinning the crown. The result is a spiky looking small plant. See the image above!

It's important to remove most of the leaves and thin the crown to allow the plant to get as much airflow and light as possible. We want to give the plants the biggest chance to develop as much as they can before winter.

Why do we remove so much of the plant? Well, doing so encourages the plant to produce better quality, bigger berries. If you don't 'prune' the plant, when next summer comes around, you're much more likely to be harvesting lots of small berries, rather than big juicy ones!