Pancake Day!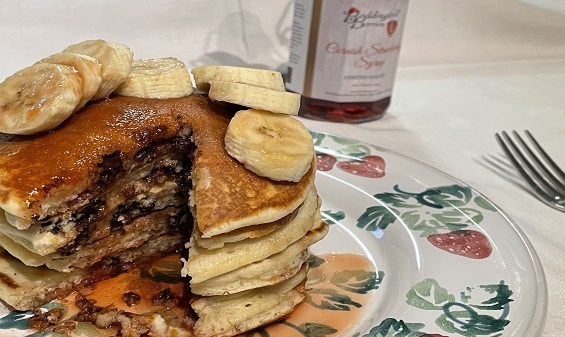 Overview
Prep: 5 mins
Cook: 10 mins
Level: Easy
Makes 12 pancakes
For the Pancakes
300g self-raising flour
1 tsp baking powder
3 tbsp caster sugar
2 medium eggs
300ml whole milk
150g milk chocolate chips
butter, for frying
For the Topping
250ml strawberry syrup
Extra toppings optional- we decorated with freshly sliced banana.
Pancake Day! - Chocolate chip pancake stack with Cornish Strawberry Syrup!

This delicious fluffy pancake stack recipe is perfect for Pancake day or whenever you fancy a sweet but filling treat.
We used free-range eggs from our Boddington's Hens for this recipe and of course our Cornish strawberry syrup; if you're not a great pancake lover you can use this syrup to drizzle over ice cream and puddings.

METHOD

Step 1
Sieve the flour, baking powder and ¼ tsp salt into a large mixing bowl. Add the caster sugar and stir until well combined.

Step 2
Whisk the eggs and milk together in a jug. Make a well in the centre of the dry ingredients and pour in the wet ingredients. Use a whisk to combine everything and create a smooth batter. Fold through most of the chocolate chips.

Step 3
Heat a small knob of butter in a large non-stick frying pan over a medium heat, swirling it round to coat the pan. Add 2-3 tbsp of the batter to the pan and cook for 1-2 mins, or until bubbles begin to rise to the surface. Flip the pancake over and cook for 2 mins on the other side for the same amount of time, or until golden brown and puffed up. Repeat with the remaining batter, keeping the pancakes warm in a low oven.

Step 4
Stack the pancakes on plates, add your choice of extra filling, and pour over the strawberry syrup!