New Software & Traceability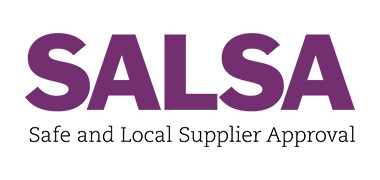 Hello technology.
Hello transparent supply chain.

OK now the dramatics are over and we've got your attention, we are updating our software. Why? So we can tick all possible boxes when it comes to traceability and safety in the food chain. Who will be checking?

SALSA recognise small businesses who are able to demonstrate to an auditor that they can produce safe and legal food. Above all, the SALSA scheme exists to encourage and assist small businesses like Boddington's Berries to help make sure food is consistently safe to eat.

SALSA will be doing their annual audit this March and we always like to be a step ahead. The rules of the supply chain in regards to traceability are 'one step forward, one step back'. If every link in the chain follows this rule, then usually there are no problems. Our new software means we can be 100% sure that our ingredients, and anything else we buy in, like packaging, are all from safe suppliers.

How does it work?
Our new system includes the use of a bar code scanner. We know – a bar code scanner here on the farm? It's actually pretty cool…

Ingredients, packaging, end products, labels EVERYTHING that is involved in the jam production is given a bar code that we randomly generate on the computer. The lemon juice has one, the glass jars have one – you get the idea.

Using our strawberry conserve production line as an example, we'll explain how the new system will be used.

As our stock is delivered, we will generate a bar code depending on the batch of the product. So for example, if our Lemon Juice supplier were to deliver cases of lemon that contained 2 different batches, we would have to make sure each batch had a different bar code.

When Jeff, our cook, collects the strawberries, sugar and lemon juice, he will scan the codes on each product he uses. In this example, our sugar is bought from Bako, which is sourced in the UK.

Next, the jars will be scanned along with the lids and label roll.

Our end product will then be placed into a box, labelled with a new generated bar code. This bar code will provide all the information on each ingredient and material used to that particular box of jam.

All of the bar codes and scanned information is automatically uploaded to our online software which records the movements of all our products and materials.

Why is this useful?
Unfortunately, problems with the food chain are still happening. Contaminants, undeclared allergens or inaccurate information are all examples of supply chain problems. If this were to happen, we would be able to find every single one of our products that contains the identified ingredients or material. Our system will also enable us to see where these products are should they no longer be with us on the farm.

So now you know. A transparent food chain is the final result. By taking small steps like this we can help to reassure the general public that their food is not only safe to eat, but is everything described on the jar.

All natural ingredients, made here on our farm in Mevagissey.

Should anyone want to know, our new traceability software is called NotaZone, Agrantec.