Meva Messy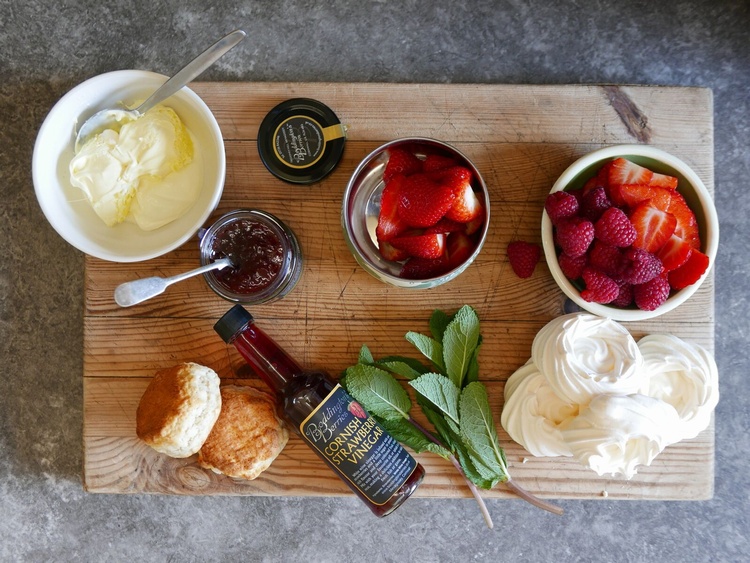 Meva Messy is our take on a classic strawberry dessert but we use a splash of Boddington's Strawberry Vinegar for some delicate acidity. This combination works a bit like the Italian strawberry and balsamic vinegar dessert. The fresh mint garnish and lighter creme fraiche give the dish a summer quality that works with the velvety clotted cream and sweet meringues. We like to think of this as a seriously decadent cream tea in a bowl, but beware: this dessert comes with an official Boddington's warning - it is messy!


Serves 4
Time: 20 mins

Ingredients

25ml Boddington's Strawberry Vinegar
50g Boddington's Strawberry Conserve
300g strawberries
200g raspberries
4 meringues
100g Cornish clotted cream
50g creme fraiche
2 scones
1 tbsp finely chopped mint


Method
1. Halve your strawberries and stir together with the Boddington's Strawberry Conserve and Boddington's Strawberry Vinegar.

2. Fold the creme fraiche into your clotted cream.

3. Sprinkle the mint over the raspberries.

4. Crumble your scones and break up your meringues into large shards.

5. Combine all the remaining ingredients together into individual bowls or serve in a large glass bowl. If you plan on presenting individual portions then consider layering the base with a meringue and scone base, followed by the minted raspberries, spoon on a generous dollop of cream and finish with Boddington's jam, strawberry and vinegar mixture.