Limited Edition Christmas range is back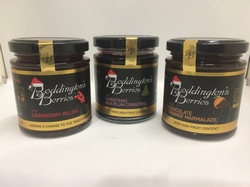 The wait is finally over!! The Christmas period is finally here
This year we would like to introduce you to the Christmas Kea Plum Conserve, the Chocolate Orange Marmalade and the Cranberry Relish.
Plums are not a new thing for us to cook with, as we have previously helped produced the Kea Plum Jam for Tregothnan. However, we do not sell any of our own products using plum but that has now changed. Introducing you to the 'Christmas Kea Plum Conserve' - using Cornish Kea plums grown on the Tregothnan Estate, just 15 miles down the road from our farm. This conserve has a great Christmas twist, as it includes mulled wine to give that Christmas aroma and taste. It will make your Christmas day breakfast look and taste extravagant.
With the ever-changing food trends and our finance department asking us to produce a Chocolate Orange Marmalade, because who doesn't like chocolate… It has taken many trials and tastings to work out what type of chocolate to use, whether milk or dark, and how much to add. But eventually we managed to, after a lot of in-house feedback, come up with our Chocolate Orange Marmalade using chocolate from Trenance in Cornwall. This Marmalade works great on a warmed croissant or toasted crumpet.
And finally: over the years we have had many people come up to us and ask us to produce a good tasting cranberry sauce. The wait is finally over because we have done just that. As a result, we have come up with our own version of the Christmas day essential the Cranberry Relish, which adds a change to the traditional roast dinner, as our relish has a tangy Christmas twist, that is just kept between the staff here at Boddington's. The Cranberry Relish is a great accompaniment with poultry or cheese.
We will still be stocking last year's Christmas Conserve and Christmas Chutney as well. So, there is lots of limited addition products to pick from!