Easy Jam Tarts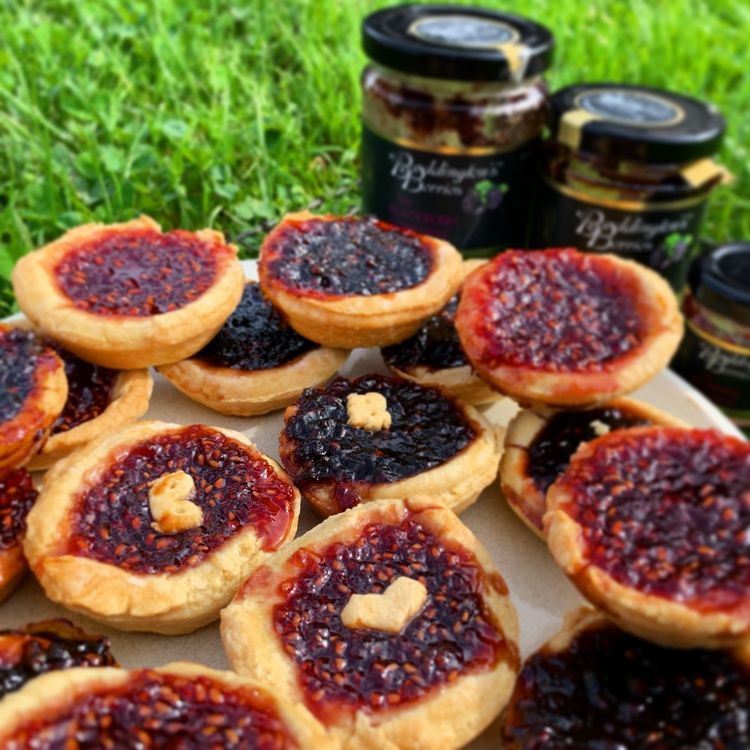 These easy jam tarts are sure to be a family favourite! Any flavour of our Boddington's Berries conserves can be used (we've used blackberry and raspberry) so pick your favourite or try something new - they'll be ready in less than half an hour if you use ready-made pastry too!

Makes 12 tarts
Time: 30 mins (plus 30 mins chilling)


Ingredients:
100g Boddington's Berries conserve - we've used 50g Raspberry and 50g Blackberry Conserve
250g plain flour, plus extra for dusting
125g butter, chilled and diced, plus extra for the tin
1 medium egg
1 tsp vanilla essence (optional)

Method: (If using ready-made pastry, you can skip to step 4).
1. Put the flour, butter and a pinch of salt in a bowl and rub them together with your fingertips (or pulse together in a food processor if you have one).

2. When the mixture looks like fresh breadcrumbs, stir in the egg and vanilla essence. Add 1 tbsp cold water, then start to bring the dough together in one lump with your hands – try not to knead it too much. Add 1 more tbsp of water if it's not coming together, but try not to add more than that!

3. Wrap in cling film and chill in the fridge for 30 mins.

4. Heat oven to 200C/180C fan/gas 6.

5. Butter a 12-hole tart tin, then dust your work surface with flour. Unwrap and roll out the chilled pastry so it's about the thickness of a £1 coin, then cut out 12 circles, big enough to line the holes in the tin.

6. Dollop 1-2 tsp of your chosen filling into each one. You can use the spare pastry to cut shapes to top the tarts - hearts are really sweet for Valentine's Day!

7. Bake for 15-18 mins or until golden and the filling is starting to bubble a little. Leave to cool in the tin for a few mins then carefully transfer to a wire rack to cool completely.